CAIS explores important topics of digitization research in the research incubator.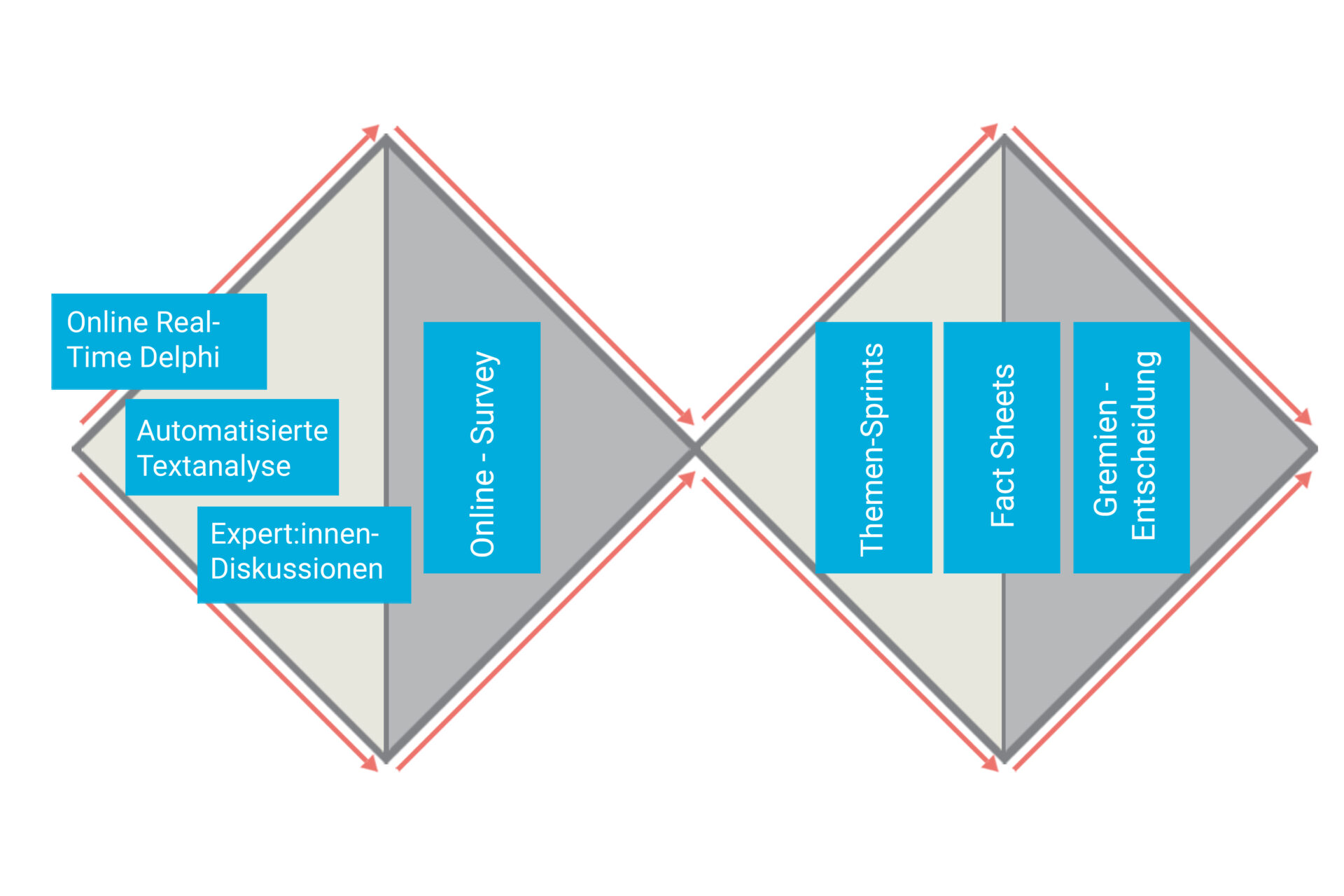 The central objective of the CAIS Research Incubator is to promote cross-disciplinary networking and interdisciplinary collaboration in an innovative framework for science and research. In a first iteration, relevant research topics for the research programs were systematically identified between 2019 and 2021, and processes were developed and tested in which the research programs are carried out.
The topic identification process is characterized by a continuous alternation between collecting and condensing findings and is oriented to the Double Diamond, a framework structure for innovation according to the UK Design Council. An elementary part of this is the structured change of perspective by alternately opening and closing the process, i.e. the targeted consideration of both quantitative and qualitative aspects in an iterative and participative process.
"Even before the research begins, it is important for us to see which topics are important to people. What do experts say, but also what moves citizens in the area of digitization?"
Dr. Josephine B. Schmitt,
Scientific coordinator
Bieber, C. & Schmitt, J. B. (2020). Labor der Digitalisierungsforschung: Der Forschungsinkubator am Center for Advanced Internet Studies. In Prinzing, M., Debatin, B. & Köberer, N. (Hrsg.). Kommunikations- und Medienethik reloaded? Wegmarken für eine Orientierungssuche im Digitalen (S. 309-316). Baden-Baden: Nomos Verlagsgesellschaft mbg & Co. KG.
Schmitt, J.B., Goldmann, A., Simon, S.T. et al. (2023). Conception and Interpretation of Interdisciplinarity in Research Practice: Findings from Group Discussions in the Emerging Field of Digital Transformation. Minerva (2023). https://doi.org/10.1007/s11024-023-09489-w
Bieber, C. & Simon, S. (2021). Interdisziplinarität in der Digitalisierungsforschung, Workshop im Rahmen der Veranstaltungsreihe Quo vadis Digitalisierungsforschung? – Summer School, des Graduiertenkollegs NRW Digitale Gesellschaft, 14.09.2021
Schmitt, J. B., Goldmann, A., Simon, S., & Bieber, C. (2021, November). Interdisciplinarity: Challenge or opportunity? Findings from group discussions among digitalization researchers. Vortrag im Rahmen des Workshops "Benefits and challenges of collaboration in research. Investigating the manifold aspects of mono-, inter- and transdisciplinary collaboration".
Simon, S. (2022). Applied Design Thinking in Research & Learnings for Agile, Participatory Processes. Vortrag im Rahmen der MENA Digital Summer School der Staatskanzlei NRW, 29.09.2022, Bochum.
Simon, S., Schmitt, J. B., Bieber, C. (2022). Co-creative and participatory interdisciplinary research methods. Vortrag auf der Tagung "Exploring Socio-Technical Research", 23.09.2022, Dresden.
Simon, S. (2021). Agile & partizipative Wissenschaft am CAIS. Der Forschungsinkubator als Best Practice Beispiel, Vortrag auf der Jahrestagung "NewWork@Science" des Zentrums für Wissenschaftsmanagement Speyer e.V., 04.10.2021
Simon, S. (2021). Design Thinking für eine Agile Wissenschaft, Workshop im Rahmen der Veranstaltungsreihe Agile Methoden des PhDnet@CAIS, 04.05.2021
Simon, S. (2021). From Ego to Eco. Systems Thinking for Sustainable Speculative Design, Vortrag im Rahmen der Konferenz Anticipatory Governence: Exploring Social Imaginaries, 29.06.2021
Simon, S. (2021). Interdisciplinarity: Challenge or Opportunity? Vortrag auf der Tagung "Benefits and challenges of collaboration in research." des DZHW (Deutsches Zentrum für Hochschul- und Wissenschaftsforschung)., 04.11.2021
Simon, S. (2021). Partizipative Digitalisierungsforschung, Workshop auf der Tagung "Re-Thinking/Re-Configuring Participation. Neue Formen von Inklusion und Exklusion in der wissenschaftlichen Wissensproduktion?" der Gesellschaft für Wissenschafts- und Technikforschung e.V., 18.11.2021
Simon, S. (2021). Peculiar Thinking: Re-Framing Challenges, Vortrag im Rahmen der Konferenz Creative Approach Summit, 27.03.2021
Simon, S. (2020). A Playground for Agile Academia, Vortrag auf der Konferenz #CMPRSSD im Rahmen des Nürnberg Digital Festival, 20.11.2020
Simon, S. (2020). Creativity & Innovation Tools: Maneuvering Uncertainty in Scientific Research, Vortrag am CAIS im Rahmen des Forschungsinkubators, 26.11.2020
Simon, S. (2020). Innovation Methods for Academic Research, Vortrag an der Universität Bremen, 27.11.2020